Submitted by leo on
We are land barons again! Bought a place off of Fall Creek Road just up the road in Spicewood. We were just looking for a raw lot but we (actually Kelly) found and picked one that came with a poured slab and a Rhino Steel building delivered! Looks like we will be building a house this spring. All the external walls are framed, as well as the trusses. It is a 48x32 slab, so it will be a small cozy house. It's got a spectacular view: Northeast over Lake Travis and Pedernales valley. It's a 5 acre lot in Blanco county (which means much lower taxes than Travis).
(Click on images to enlarge.)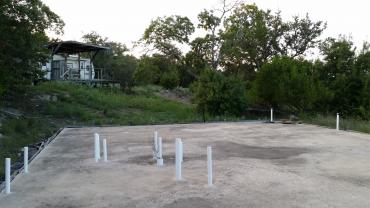 Here is the already-poured slab. Rough plumbing all in place and the forms are still on. The slab was poured in Sept 2005, so it has been sitting there for 9 years. The house came with no plans so the plumbing will offer the biggest clue as to what the floor-plan was to be. Also, we measured the slab, and it is no more that 1/4" out of level all the way around the edge. They did a good job pouring it, thank goodness...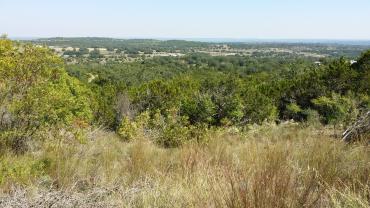 This is the view to the northeast from the slab. Beautiful hill country view overlooking the Colorado, Pedernales, Lake Travis valley. WOW! The picture doesn't do it justice.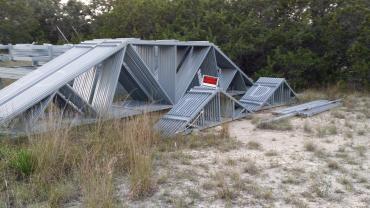 This is the Rhino steel frame building that came with the property.  It was bolted together as if just dumped off the truck at the front of the property...9 years ago. Our first task was to move it off of the street and onto the slab.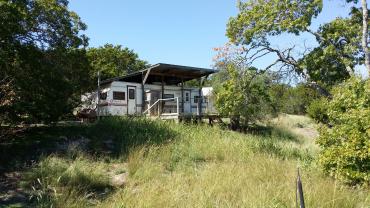 This is the beautiful 200 sq. ft. "home" that Zillow says is worth $289,000.00. I would sleep there in a bind. A real bind.  Good for storage...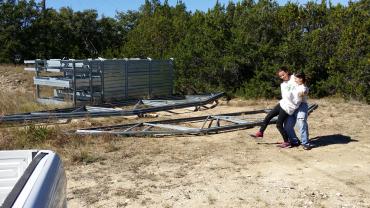 We started dis-assembling the house to bring to the slab. It was amazingly light and the 4 of us carried it all in a couple of afternoons.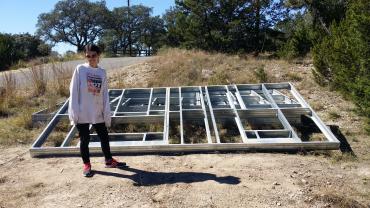 When we took the walls apart, we started seeing pieces of the floor plan of the house. Between the rough plumbing in the slab and these pieces with the wall-stubs, windows and doors openings, we were able to figure out what the basic floor plan is.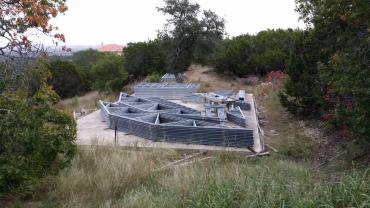 The house is on the slab now, ready to assemble. Once the weather (Jan 2015...El Nino) cooperates, we can start.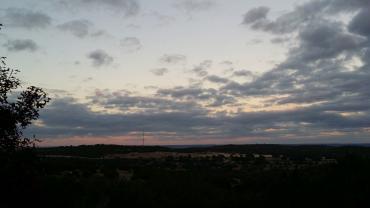 Nice day-end view. Not the blazing ball of fire to the southwest, but all the stuff it is illuminating to toward the northeast. We prefer that view. The central Texas sun is just too hot to take at the end of those summer days.